User Feedback – Yonnel Giovanelli, SNCF
"Japet.W assists the mobility of the trunk and give back pleasure at work, it's very encouraging!"
Feedback from Yonnel GIOVANELLI, Manager of the ergonomics and Organizational and Human Factors pole at the SNCF and expert AFNOR commission X35A "ergonomics".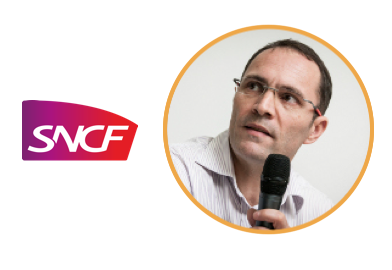 What are the impacts of the musculoskeletal disorders and especially low back pain for companies?
No matter how many work-related accidents happen in a company, it is always too high. In another hand, there are also some co-workers who are not on sick leave but suffer at work. Both have pain which limits their ability to work or carry out common tasks. To preserve the worker's physical integrity, companies need to develop ergonomic workstations and improve processes, but when it is not possible, they need to find other solutions.
Why did you decide to implement Japet.W in your organisation?
One of our operating unit managers located in Hellemmes, next to Lille in Northern France, had in his team some agents suffering from back pain and he was looking for a solution to help them. When he introduced Japet.W, we were interested because of the assistive goal of the equipment. It doesn't help to carry heavy loads but provides a lumbar traction to relieve pain while maintaining a complete trunk mobility. It is a good solution to assist the worker with back pain during painful episodes or back strains.
What is the feedback from the person who tested Japet.W?
He feels a real difference. With Japet.W, he feels supported and assisted. Without, the pain came on every monday evening, but since he has Japet.W, it significantly postpones the occurrence of back pain, without any discomfort in the carrying out of his duties. This is Japet.W big positive point: the pain relief. This equipment assists trunk mobility, bring back well-being at work and limit at-risk postures, it is very positive!
What would be the next steps?
We were the first to implement Japet.W onsite because this device fitted with a global approach undertaken by the company. The SNCF also develops his own modular exoskeleton to assist co-workers in their daily tasks. The objective is now to internally validate Japet.W, so all the SNCF subsidiaries can buy the equipment according to their needs. It is important to remember that these types of equipment are not developed to work longer or faster, neither to lift heavier weights; it is a technical assistance for people that need to be integrated in a global process with workstation layout and ergonomics.
Do you have any advice for other companies?
Just try it!
Subscribe to our newsletter to receive the latest news.