Integrator feedback – Samuel Taschner, Swiss Post
"With over 30 % of our sick leaves due to lumbar Musculoskeletal Disorders (MSDs) problems […], we had to find solutions for our employees."
Feedback from Samuel Taschner, occupational health and safety specialist at La Post Swiss, on the integration of the Japet.W exoskeleton.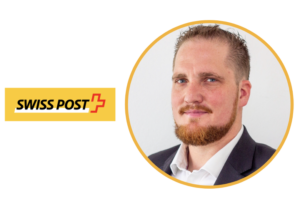 Swiss Post is a logistics company specialized in the national and international courier market.
What are the problems you encounter at La Post Swiss?
Every year, Swiss Post delivers 1.8 billion letters, 202 million parcels, 950 million newspapers, 920 million advertisements for 1.5 tons per day per letter carrier. In recent years, people have become accustomed to ordering online, which increases the rate of delivery.
"37% of our sick leaves are due to MSD/lumbago problems."
As a result, we need to find a solution for our employees working in logistics services.
What have you put in place to address this situation?
When we talk about safety at work, we talk about STOP measures (Substitution, Technical, Organizational and Personal Protection measures). Here, we cannot replace, we always must deliver the packages otherwise we have no more work.
We have therefore set up adapted machines for the employees, which will be adjustable in height so that the load can be carried by them.
On the organizational side, we have introduced a workstation rotation as well as "Gestures and postures" training for employees and group leaders.
Finally, we have just tried out exoskeletons with company physiotherapists who are there to help collaborators to improve processes, workstations, and employee posture.
Why did you turn to the Japet.W exoskeleton?
We carried out an initial, relatively short test phase of exoskeletons, which enabled us to find out whether an exoskeleton could be useful for posture. The answer was "Yes, exoskeletons have a future at Swiss Post".
In a second, longer test phase, a contact from the Belgian Post Office recommended Japet to us following an international exchange. That's when we contacted Japet to deploy the test. Currently, we have 8 models.
How is the exoskeleton used in your company?
In general, the exoskeleton is used for loading letter carriers' vehicles and in "in house" work.
"The Japet.W exoskeleton is a good product for relieving the daily lives of employees with back pain in a heavy work environment."
Lastly, what changes have you noticed since the integration of the exoskeleton?
All the feedback from Japet users is good. They feel relieved. One employee told us: "I fell down the stairs on Sunday and my back was so sore that I normally couldn't come to work but I remembered that I had the Japet.W. I went to work anyway and after 2-3 days, I was no longer in pain."
"Without Japet, he wouldn't have come to work."
Subscribe to our newsletter to receive the latest news.