User feedback – Alain Devaux, SMR Industries
"The exoskeleton allows you to work safely all the time."
Feedback from Alain Devaux on the use of the Japet.W exoskeleton at SMR Industries.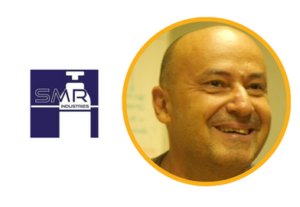 Interview with Alain Devaux, technician at SMR Industries, who talks about the use of the Japet exoskeleton.
What does your job consist of?
My job is to do technical controls of scuba tanks and different pressure equipment's, such as fire extinguishers, special boat cylinders, and paintball cylinders.
Which tasks put the most strain on your back?
Carrying the scuba tanks is the most demanding, especially when they are filled with air, and they weigh about 20 kilos. So, when I have to handle them, heave them on the workbench, or put them from a workbench into a box, that's when the exoskeleton is important for me in terms of gestures and postures. It allows me to maintain my back in a good posture and to be safe.
How did the integration of the exoskeleton go?
With Japet, we were very well accompanied, in the sense that they visited us on site to present the device. They first showed us the exoskeleton on themselves and explained how to put it on and to use it. Afterwards, the employees helped us to put it on. We were able to make some movements with it to see how the exoskeleton performs. Then they contacted us regularly to get the feedback on our use.
What is your impression of the Japet.W?
The exoskeleton has adapted well to my work routine, since it is very compact, light, and discreet. After a while, you don't even feel it anymore and you get used to its presence.
A few words to wrap up?
The exoskeleton is suitable for people who have the same job as me or who need to lift heavy loads, perform repetitive movements. It's not always easy to keep a good posture and there, the exoskeleton makes it possible to make people understand "Be careful! You are in a bad posture, let's get back on track". It allows you to work safely all the time.
Subscribe to our newsletter to receive the latest news.