User feedback – Flavien Hudeley, Les Anis de Flavigny
"I would recommend the exoskeleton to anyone who is doing a lot of handling."
Feedback from Flavien Hudeley on the use of the Japet.W exoskeleton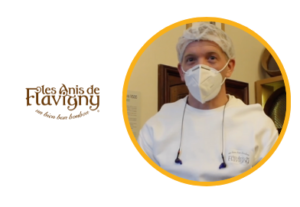 Flavien Hudeley, dragée maker at Anis de Flavigny, is equipped with the Japet.W exoskeleton.
Dragée maker? What does it involve?
In the morning when we arrive, we will load our candies in our basins. Then, we will prepare the pans for the sugar. Once the syrup is at a good temperature, we will pour it gently on our candies so that they grow and at the end of the day, we will unload our candies and put them in crates.
What are the tasks that put the most strain on your back?
Loading the candy into the basins, also preparing the sugar pans because we're lifting 25 kilo bags each time. Unloading the basins of candy into the crates should also be mentioned.
What do you think of the Japet.W exoskeleton?
You can see the difference! Before the weekend, my back pain was strong, sometimes a little less so, and now it's more often less than a lot, in terms of my back fatigue. It is relatively simple to wear; not bulky, not embarrassing, and it is very easy to install and uninstall. It's very practical!
A few words to wrap up?
I would recommend the exoskeleton to my colleagues, to anyone who does a lot of handling, who bends down, who carries heavy loads. And other people, for example young people around me who easily complain about having back pain. This people the exoskeleton could help in their work and relieve them of pain.
Discover the Anis de flavigny, candy manufacturer, located in the heart of the old Benedictine abbey in Flavigny.
Subscribe to our newsletter to receive the latest news.