User feedback – Anne Gantet, APHP
"As soon as we started working with the exoskeleton, we felt the positive effect of lightness and good posture of the back, it's really miraculous".
Feedback from Anne Gantet on the use of the Japet.W exoskeleton at the Bichat Hospital, APHP.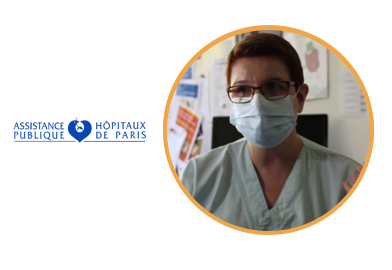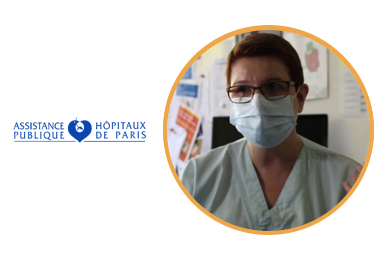 The Healthcare sector is one of the most impacted by back problems with 1 out of 3 work-related accidents linked to low back pain.
With the influx of patients, the COVID-19 period was more intense for hospital staff, where they "went from 32 to 52 beds".
Anne Gantet, health professional in medical and infectious resuscitation at the Bichat Hospital, APHP, discusses the use of exoskeleton during this period.
"As soon as we started working with the exoskeleton, we felt the positive effect of lightness and good posture of the back, it is really miraculous".
What are the difficulties you encounter at the Bichat Hospital, APHP?
In the hospital, MSDs represent a large proportion of sick leaves. Pallet deliveries for the pharmacy have an average weight of 700 kg. Once the unloading is done, the boxes must be unpacked and must be stored in places that are not necessarily very ergonomic.
In addition to the transport sector, there is also the nursing sector where nurses transfer patients all day long. Also, the storage needs to be mentioned, like in pharmacies, where deliveries arrive on pallets ranging from 600 to 800 kg. In addition, the number of intensive care beds increased during this period, from 35 to 50 beds, so we had to help the two logisticians with the storage of the various deliveries.
How did you feel about using the Japet.W exoskeleton?
We have two logisticians, one of whom has had problems for many years. The logisticians found it miraculous to take boxes and be able to lift them without feeling the weight of the load on their lumbar region. When we started working with the Japet.W, there was this beneficial effect in terms of lightness and good positions.
I developed sciatica and when the Japet team arrived to demonstrate the exoskeleton, I tried it and just by switching between the different levels, I noticed that I was relieved and that I had less pain, without going to see a doctor. In any case, there was no doctor available at that time since we were in confinement and without treatment, I was really happy to be able to use the exoskeleton.
A few words to wrap up?
Many curious people came to see the exoskeleton and test it inside the hospital. People are really interested and as I told you, for my part, it relieved me and sincerely, it did me a great service.
Subscribe to our newsletter to receive the latest news.